It is the beginning of a new school year here at OYIS, which means it is the time for new initiatives, new ideas, new projects, and new connections. As a school, we are always trying to find new ways to forge links with our community in a landscape that is rapidly changing, especially in the time of COVID. The past 18 months have made us more digital than ever before – can most of us even remember a time before we Zoom'd into Parent-Teacher conferences? How many times have you been told that you're on mute? Or that the link just doesn't work? It has been a learning experience for everyone – parents, teachers, students.
Despite the distance between us, we still long for real human relationships. We long to be a part of one another's stories, to share the ups and downs of parenthood, the successes of being an educator, and the magic that school brings into our lives. How can we find each other in genuine and joyful ways even though we can't be together? How can we keep school the safe and happy hub in our busy, socially distanced lives? Where is a place where we can see what is happening not only in the classrooms, but learn more from and about each other in ways that enrich us?
To try to answer these pressing, albeit large, questions, we would like to present the OYIS Blog. In this format, we believe that we will be able to share with you, our parents, our community, our world, the amazing things that happen within our school walls, especially since you cannot physically come and see. We want to not only showcase the world-class teaching that happens every class period, but also create a digital space where educators and thinkers from other institutions can join in the conversation. Education is a unique field in how it touches each and every person on the planet. We all have something to add, enrich, and excite the generations of tomorrow.
We invite you to connect with us via this platform, encountering new weekly content every Wednesday. A member of the OYIS faculty and staff, or perhaps even parents and students, will be sharing something special with you. Topics will range from exploring our connections with the YMCA and the International Baccalaureate, to exploring sustainability, to celebrating student transformations, to emphasizing mental and physical well-being, and much more. Like OYIS, blogs will come in many shapes and sizes, languages and styles. We are excited to share with you and hope that you will reach out to us too.
Tomorrow, our External Programs Coordinator, Emily Donkin, will be reviewing the external intensive summer programs as our very first staff blog post. Tune in!

To the start of another great school year!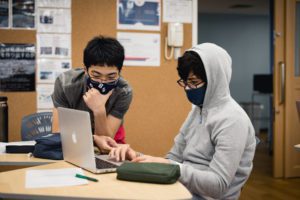 Announcement
Students who are eligible for Grades 10 or 11 in August 2023 are invited to take the 2022 Scholarship Exam. This exam is the first step to potentially receiving the OYIS Achievement Award.
Read More »