International Festival 2019
OYIS International Festival is a way to celebrate our schools' diverse cultural background and to connect with our local community.
We are excited to invite you to join us on Saturday, May 18th from 10:00 – 16:00 at OYIS.
This year we have decided to make a number of changes that we believe will highlight our vibrant, diverse and dynamic community. Highlights of the festival include a number of interactive workshops, performances and a range of international food options – try a sample of Korean, Indian and Japanese food and make sure to visit one of the food trucks.
The proceeds will be donated to charities such as Ark, KIVA, Japanese Disaster Relief fund and school.
The event is sure to be great fun for the entire family. We hope you will come and join us.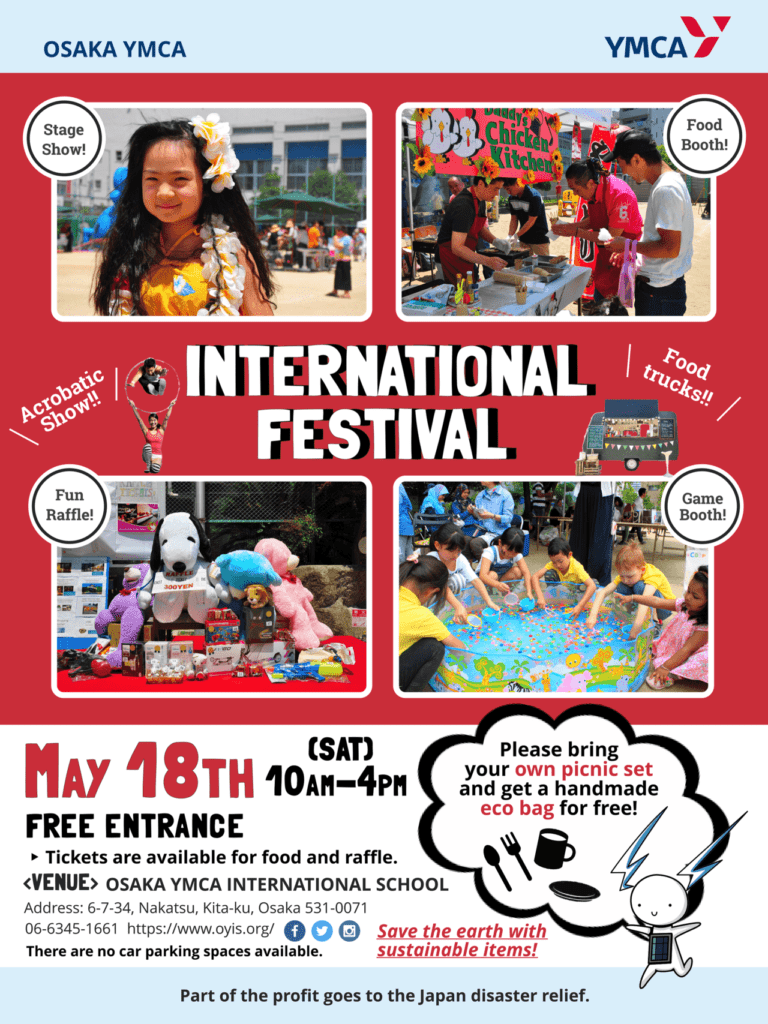 | Time | Performer | Piece |
| --- | --- | --- |
| | | |
| | | |
| | | |
| | | |
| | | "Something just Like This", "Yellow" |
| | | |
| | | |
| | | |
| | | |
| | | |
| | | |
| | | |
| | | |
| | | |
| | | |
| | | |
| | | "Summertime", "Love Song" |
| | | |
| | | |
A very big thank you to our raffle donations this year
Now more than ever, with climate change and the plastic crisis, OYIS should model and support sustainable practices, in the community and within the school. At the festival, OYIS wants to promote the ethos of reuse, reduce and recycle and promote that we all have a responsibility for sharing the planet.
We are asking that festival participants support us in reducing our environmental impact. We will be actively limiting the use of plastic and the generation of garbage.
Bring your own cup, plate and cutlery – the first people to arrive with their own plates will receive a free eco bag. (Insert picture of Shoji and Saito)
A cup, plate and bowl will be available to hire from the ticket booth for 1 ticket (rental).
Eco stations and volunteers will wash the plates when you have finished – just return the plates before you leave!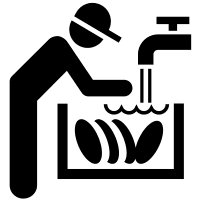 This year we have an exciting range of workshops from the following community members:
KLUG – Kansai Lego User Group Lego Brick Fest – https://japanbrickfest.klug-jp.com/
Look at some awesome and creative models – be inspired to make your own art. All day in the grade 5 classroom – learn how to make Lego pixel art.
Ikura Circus – https://circusosaka.weebly.com/
Acrobatic performances from the dynamic and creative Ikura Circus Osaka @ 11:00 and 14:00 in the gym. You can also join workshops to improve your skills in Juggling, Diablo and Hoola Hoop following the performances – so don't miss out!
Art Craft School – https://arunen.jp/
Get creative with our Art Craft booth come to the during the day with activities such as suncatchers and marionette – for all ages!
Art Beauty School – https://www.belebel.ac.jp/outline.html
Relax with at the body art and beauty school, who will be creating hairstyles and nail painting. Get funky with face stencils – see you there!
Yoga – https://www.artofliving.org/jp-ja
Relax with yoga with Ms. Neela Srinidhi, (Available both in English & Japanese) No age limit. You can drop your EC – Grade 1 OYIS children off at the EC building if you need childcare during yoga. No yoga mat needed, Sign up here: https://forms.gle/HNTmet1KP5xU9ygM7
Room: Music room, 500 yen (30mins) 5 tickets
Session 1 – 10:30 to 11:00
Session 2 – 11:30 to 12:00
More fun activities and games run by OYIS students!
Minute to win it!
Ring Toss and Grade 4 Games
Sustainable Crafts with Ms. Nicole
Bring your old book for the book swap!
Don't forget our bouncy castle!
We will operate the festival using a ticket system.
The tickets can be purchased through the office before the event date. Tickets are also available at the ticket booths on the Festival day.
The raffle tickets are available to purchase by cash only.
We will refund any unused tickets if over 5 tickets per person on the Festival day. Invitation tickets with stamp are not eligible for a refund.
There are no car parking spaces on the school ground. We appreciate your cooperation in using public transportation.
© Osaka YMCA International School 2019